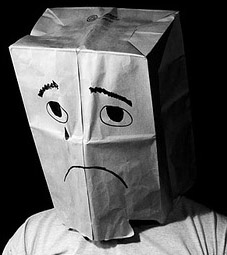 We may be misers when it comes to praise, but here at Moorezilla LLC we are quite generous when it comes to illuminating flaws, shortcomings, and other imperfections. At times, our righteous vitriol rises quicker than the water levels in Zion National Park during a thunderstorm, so we've adopted the bullet point emergency shame list to release the negative pressure when we feel deluged by a host of underperforming targets.
Shame on YOU:
The Headers, for coming in last place on trivia night 8/20/09. That wasn't a poor showing; that was a non-showing. If you were strippers, you'd have gone home empty handed, so I guess that means you might be strippers, because you went home empty handed after showing everyone nothing, instead of showing some people everything, or something like that. In short, next time, keep your clothes on but try to show people something. Your lousy performance has, frankly, damaged my control of the English language, so try to get your act together before my blog suffers.
Mainstream media, for praising Ted Kennedy, a guy who should have been in the state penitentiary (see here, or here), not in the Senate.
Red Sox, for (a.) signing Billy Wagner (bad enough!) and then (b.) CONTINUING to praise Ted Kennedy during the White Sox game. Eunice good… Teddy bad. Schmucks!
Ron Paul. You know what you did.
Gourmet Gardens, for putting your sushi/sashimi columns right next to each other on the ordering sheet. It doesn't matter if every other sushi restaurant does the same thing; I hold you to a higher standard.
Tropical Storm Danny, for planning on coming to New England on a Saturday.
Don Draper. You know what you did.
General Electric, for cutting your share dividends, moving sideways, getting caught lying to the SEC, and continuing your lackluster performance despite NBC being a mouthpiece for Obama health care programming. You should be up to at least $20 a share by now!
The Headers, again, for trying to break up STFD! after STFD! already kind of broke up. Some of us will be beating all of you… TONIGHT!
Whatever phantom leftover stinks in our fridge right now, for stinking in our fridge right now and not having the guts to show yourself on trash day.