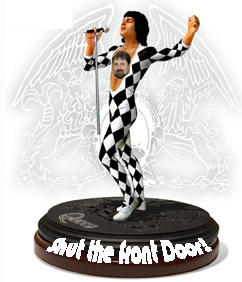 With three consecutive victories and counting, it's time for Shut The Front Door! to shamelessly cash in on our marginal celebrity status. We still have plenty of baby onesies left in 0 to 9 month sizes, but avid collectors need to move fast to secure one of our VERY limited edition "Freddie Mercury Knows that STFD! are the Champions; do you?" action figures.
Fast Freddie can be yours for a mere $29.95 plus a piddly extra $6.95 for shipping and handling. Kit comes complete with a collectible, faux-mahogany stand that sings one of three catchy, braggart jingles when you press the Queen button. Checkerboard polyester blend leotard resists stains, laughs in the face of fading, and effectively frightens away timid or smallish pets before they can chew on Freddie's mic stand!
But wait! There's more! Best of all, Freddie's chest hair is chi-chi-chi-CHIA-FIED and grows out (just add water, sunshine!) into a randomly-selected STFD! member likeness… wow WOW! Who will you get? Will it be Wrong Answer Rachel, Empty Bottle Emily, Scratch Ticket John, IMDB Addison, Crabigail Regina, Redd "Alzheimer" Andy, or maybe the elusive outcast Schultz (unofficially banished from STFD! after insisting that the Mississippi river is longer than the Missouri)?

Two AA batteries and chia seeds included. Significant assembly required.